How To Open A Support Ticket
If you require any assistance, you can always reach out to our support staff via the live chat feature. However, some issues may require you to open a support ticket through the client area, instead. This is done to ensure your privacy, confirm your identity, or if your issue requires attention from system administrators.
Note: You can open up a support ticket even without a Vicetemple account. In such cases, you'll need to fill out additional fields (such as name and email), which would otherwise be filled with the info you'd provided to Vicetemple during registration.
To open a support ticket, follow the steps below:
Step 1
Log into our client area. Enter your email and password, solve the I'm not a robot captcha, and press Login.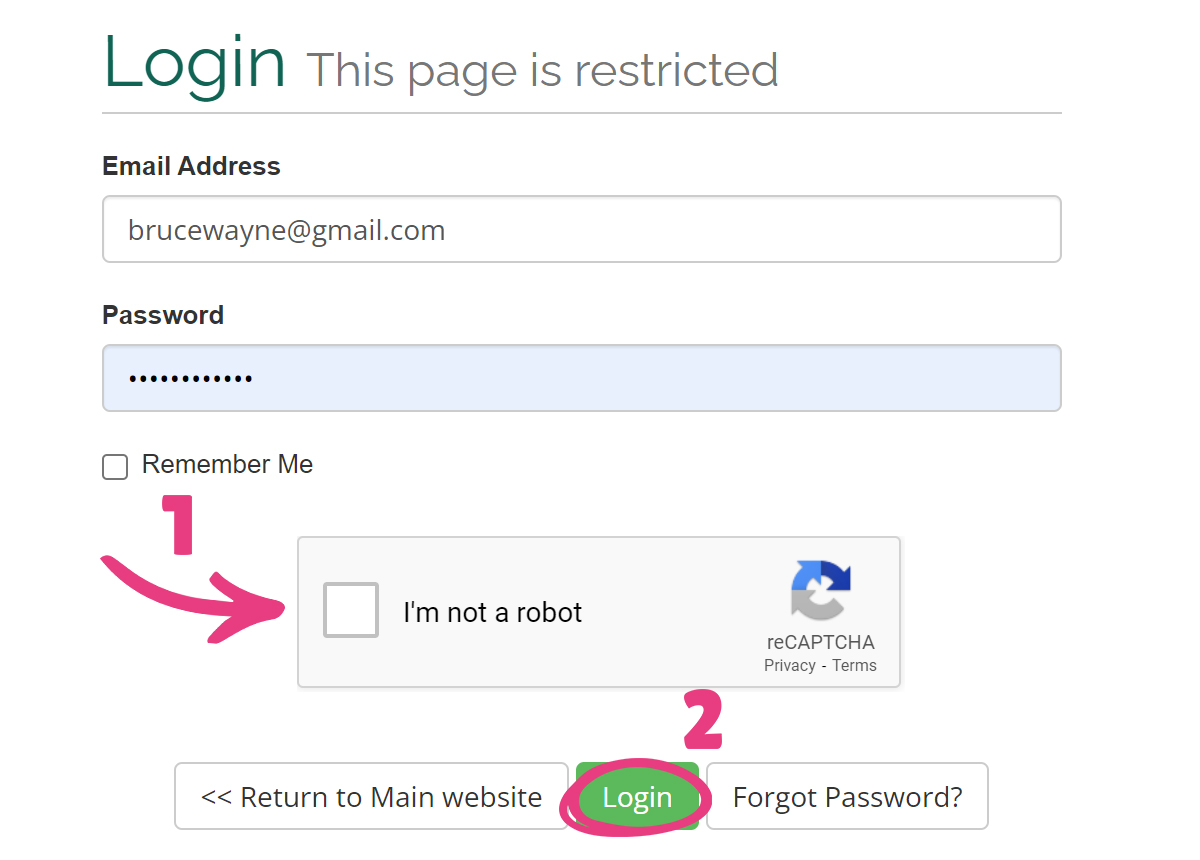 Step 2
Click on Open Ticket.

Step 3
Select the department based on the nature of your problem.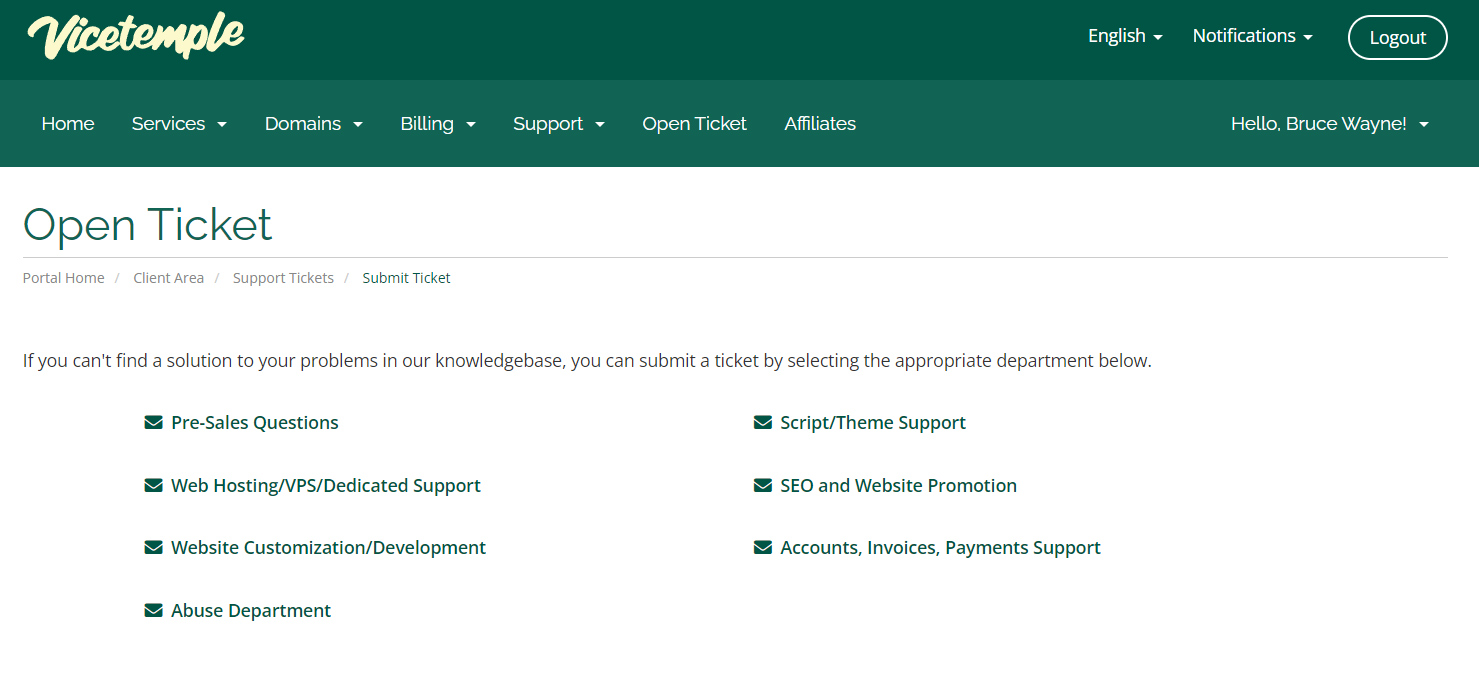 Step 4
When submitting a ticket, please fill it with correct information, and be as precise as possible.
Name: Your full legal name (including surname).
Email Address: The email address you're using on Vicetemple.
Subject: The title of your ticket. Please make it short and straightforward.
Department: The department you've initially selected. You can change the ticket's intended department via the drop-down menu. Please make sure to use the correct department for your issue.
Related Service: The service that your problem is connected to. If the problem is unrelated to any of your active services, leave it as None.
Priority: Please be honest about the issue's priority. Incorrectly setting the priority to High will not speed up the support.
Message: Specify why you're reaching out to us. If the problem is complex, please be as detailed as possible.
Login Information: If you're experiencing server or website-related issues, please include your admin credentials and FTP access details in the ticket. This will help us investigate the issue and resolve it as soon as possible.
Attachments: If the issue requires screenshots or video recordings to be properly identified, please attach them to your ticket.
Step 5
When you fill in your information, press Submit.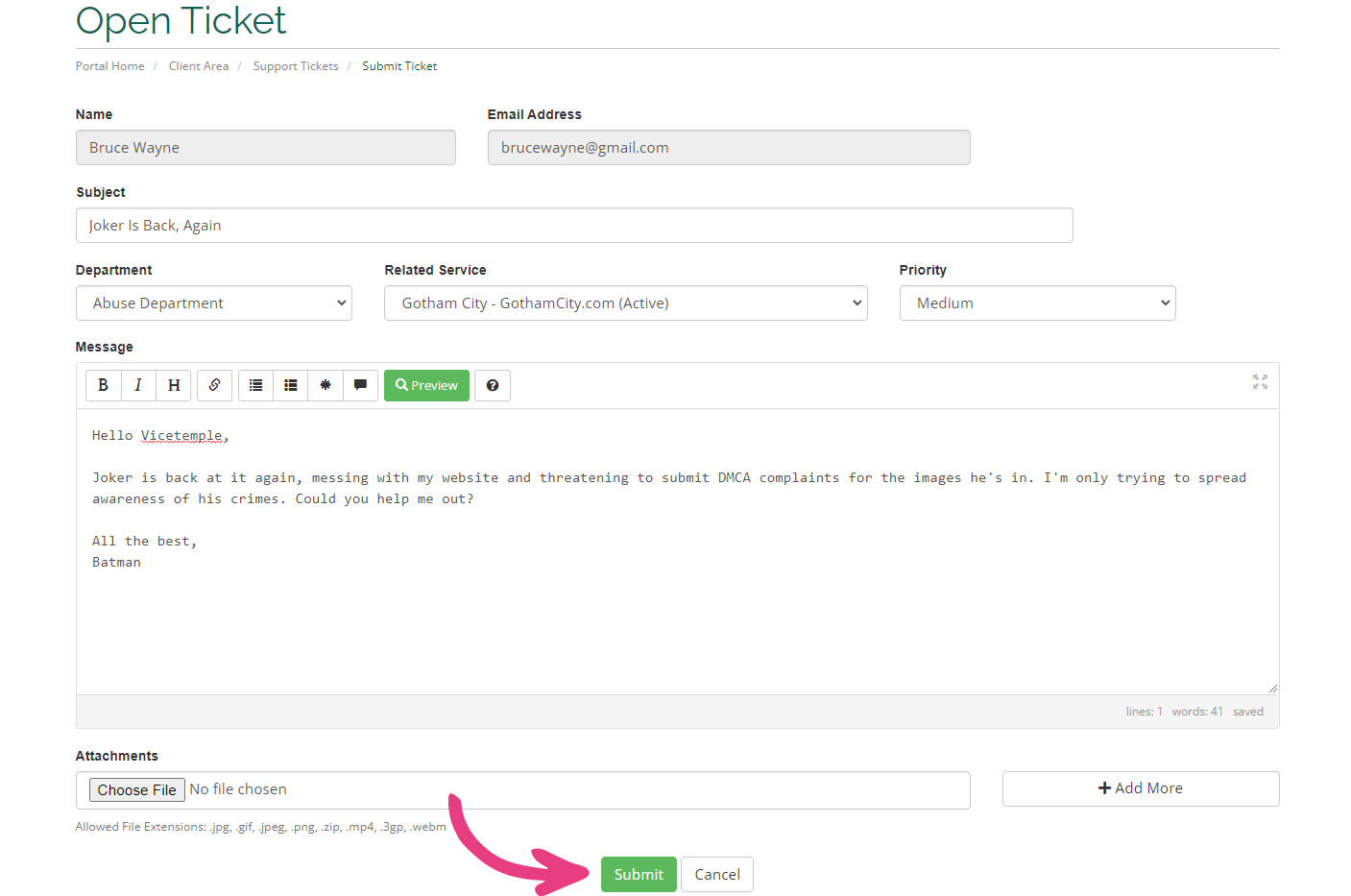 Step 6
After you've submitted your ticket, our team will get back to you as soon as possible.
We are available 24/7, and your ticket will most likely be inspected within an hour. However, each issue is different, and resolving and responding to yours may take us longer.